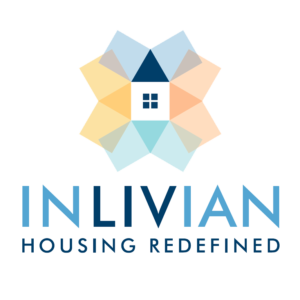 Charlotte Housing Authority Unveils New Name and Logo
Residents voices were heard in selection of agency's new name
CHARLOTTE, NC – The Charlotte Housing Authority unveiled its new name INLIVIAN, which reflects the organization's rich past and bright future. In addition to the new name, the organization also unveiled its new logo, website and social media pages for the first time.
As federal funding continues to decline and prove evermore unreliable – Charlotte's population boom has endured, causing home values and rents to skyrocket – as the community has rapidly evolved, our organization has matured right along with it, from a traditional housing authority, to a more nimble and entrepreneurial agency.
This is an extremely exciting time for our organization," said A. Fulton Meachem Jr., CEO of INLIVIAN. "We have evolved and now provide housing solutions to help address Charlotte's diverse housing challenges and improve the quality of the life of the residents we serve. Our new name, INLIVIAN, better reflects the agency we are today."
Residents, as well as other community members, were very active in the rebranding process and ultimately it was the selection of the residents, that was approved by the Board of Commissioners.
"It was important to me that if there was going to be a name change, residents had to have say in the process," said Resident Board Commissioner Lucy Brown. "It was only right that we had a say in how we will be represented. And I can proudly say we had a seat at the table."
"After listening to valuable feedback about our name, coupled with the changing funding landscape for housing authorities, it was confirmed that it was time to update our brand and change the way we represent ourselves," Meachem added.
INLIVIAN, is a newly-created, unique word inspired by the word "enliven," meaning "to restore or give life to." INLIVIAN's vision is to empower families and individuals to live more stable lives by delivering diverse price point housing for those priced out of the market, including teachers, nurses, custodians, veterans, seniors and the disabled. It should be noted that INLIVIAN will continue to serve Charlotte's most vulnerable residents who make 30% or less of the area median income or $25,750 per year for a family of four. INLIVIAN's mission is strengthened by its pillars to Family, Community, Opportunity, and Leadership.
For more information, please visit www.INLIVIAN.com.
About The Logo
The new logo is called the agency's "Housing Star". The home shape is repeated and overlapped to form an abstract star. The star represents guidance and leadership, abundance and hospitality. The connected houses represent the diverse, connected communities created by INLIVIAN. Ultimately the star is made up of elements that change to form patterns, much in the same way lNLIVIAN will continue to change to meet housing needs.